Inspire More Effective Collaboration with EVERYTHING DiSC® on Catalyst™
Catalyst is an online, interactive platform designed to drive culture change
Mobile-Enabled Learning Platform
Connect and Engage Your Organization
Provide Ongoing Learning Opportunites
Everything DiSC®
on Catalyst
The Mobile-Enabled Learning Platform for DiSC
Designed to engage everyone in building more effective relationships at work, Catalyst helps people adapt to others in real-time, unlocking engagement and inspiring more effective collaboration.
Click play on the video for a quick introduction to DiSC on Catalyst (it's less than 2 minutes).
Get an overview of Catalyst in less than 2 minutes
Learn about team mapping on Catalyst.
New! "Your Teams" feature for team mapping
Build a group map of team members within the Catalyst platform and gain useful insights into team dynamics.
This new feature is included with every Catalyst assessment at no extra charge!
Leveraging the power of Everything DiSC®, Catalyst delivers personalized insights and actionable strategies to deepen self-understanding, inspire an appreciation of others, and empower action.
For use in an instructor-led facilitation and on-demand independent exploration, Catalyst integrates DiSC® into the flow of work, making the hard work of lasting behavior change possible and enjoyable. With Catalyst, learners will:
Take the proprietary Everything DiSC® personality assessment
Discover their DiSC style
Deepen their understanding of self and others
Learn how to build better relationships with others
Compare with colleagues and gain tips for more effective interactions in real time
Access social and emotional skills training—personalized to their unique personality—for ongoing learning OR Build the foundation for social and emotional skills training
Everything DiSC Catalyst creates meaningful culture change that empowers people to engage, connect, and thrive at work.
What can you find on Catalyst?
The "Base" Catalyst Experience
With the basic Catalyst assessment, results for Everything DiSC Fundamentals and Workplace become available. Everything listed in these sections is available to everyone that completes a Catalyst assessment.
Catalyst Experience
Catalyst is loaded with resources about DiSC and it provides one-on-one insights on improving relationships with your Catalyst-enabled colleagues.
DiSC•ology
Your colleagues
Download reports
Everything DiSC Fundamentals
Learn about your DiSC style, how to recognize others' styles and how to adapt to these other styles.
Your Style:
Your map
Your style story
A couple of things to remember
Your style podcast
Everything DiSC Workplace
Learn about your DiSC style impacts how you approach work and coworkers. Learn how to improve relationships with your coworkers.
What drives you
You and other styles
Build better relationships
Everything DiSC® Agile EQ™
An inexpensive add-on to the base Catalyst experience, Agile EQ™ explores emotional intelligence.
Everything DiSC Agile EQ
Learn not only about your default EQ strengths and challenges, but learn how to improve your EQ and improve your ability to respond effectively in difficult situations.
What is Agile EQ™?
Your EQ strengths
Beyond your comfort zone
Develop your EQ
Everything DiSC® Management*
This inexpensive add-on to the base Catalyst experience can elevate the proficiency of managers at any level.
Everything DiSC Management
Managers gain valuable insights to how they approach managing others, how others want to be managed and how to interact with their own manager more effectively.
Management overview
Your management style
Direct & delegate
Motivation
Develop talent
Manage up
Everything DiSC on Catalyst
vs.
Traditional Everything DiSC Applications
Everything DiSC on Catalyst leverages the same research-based and fully-validated work that backs the traditional Everything DiSC products. But there are differences…
Mobile-enabled, interactive platform
Setup required
(<24 hour turnaround)
Manual,
admin-only function
Built-in,
available for all
Workplace
Agile EQ
Management
Productive Conflict
Sales
Work of Leaders
Workplace
Agile EQ
Management
1Average time; some respondents may require less time; others may take more.
2Free upgrade available through December 31, 2024.
Explore Everything DiSC on Catalyst Products
Everything DiSC on Catalyst FAQs
Catalyst is a different—and often better—way to experience DiSC, especially fro groups. Instead of receiving a static PDF with your results, Catalyst presents the material through an online, interactive platform. Catalyst also lets you see the DiSC styles of others in your organization and get specific tips on working together.
Learn more on our Catalyst page or watch the video: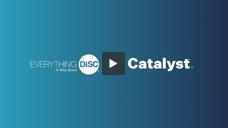 ">.
Indefinitely! Once you complete your Catalyst assessment, you gain instant access to the Catalyst platform with no expiration date. And there are no extra fees for continued access, unless you choose to add a new set of results.
Every Catalyst assessment includes the Everything DiSC Workplace results. In addition, Agile EQ and Management are also available as inexpensive add-ons.
Once a respondent has completed the comprehensive Catalyst assessment, these add-on applications can simply be enabled by an administrator (by paying the add-on cost) without additional effort by the respondent.
The Catalyst curriculum for virtual training supports a wide range of platforms. The Advanced curriculum requires polling, annotation and breakout rooms. If your preferred platform lacks any of these, you may wish to use the Basic curriculum.
The primary difference between Basic and Advanced curriculum is how the activities are structured. The objectives and learning points are the same.
The Catalyst Facilitation Kit contains course materials and videos for all of the profiles available on Catalyst. Currently that is Workplace, Agile EQ and Management. There are versions for both classroom (in-person) and virtual sessions included.
The course materials are aligned with how the results are presented on the website (instead of the traditional PDF) and some of the included activities direct learners to use the platform.
It is our understanding that curriculum for any application added to Catalyst in the future will be available via a free upgrade, though that is subject to change.
The "Your colleagues" feature of the site showcases your similarities and differences with individual colleagues as well as strategies for working together. This feature draws on a portion of your assessment results, including your DiSC® style and some preferences and tendencies.
The only people that can find you on Catalyst are others within your organization that have also completed a Catalyst assessment and that have not opted out of sharing (it's on by default).
If you opt out of sharing, no one will be able to see you or your DiSC information, but you won't be able to see any of your coworkers either. The comparison tool within the "Your colleagues" section is a powerful tool for improving your working relationships and we highly recommend that you keep it turned on.
Note that your information will always be visible to your Catalyst™ administrators, no matter what the setting.
Yes, you can. In your profile settings, there is a Privacy section where you can turn off sharing with colleagues.
However, when you disable this function, you can no longer see any DiSC information about your colleagues. The ability to compare DiSC styles and explore strategies for working together is one of the most powerful functions on the Catalyst platform, so we highly recommend that you keep sharing turned on.
Yes! Simply select the applications and the quantity you want, add to cart and check out. We will need the name, email and organization for each person taking the assessment so that we can load it into the system. You can use our Catalyst setup form (also provided upon checkout) to make that easy for you.
We will have everything set up within one business day (and often in a few hours or less) upon receiving the setup form.
You sure can! While Catalyst provides online access to results, you can still get a PDF file of the results. To do that:
Log into Catalyst
Click on the "hamburger menu" (the three horizontal lines in the upper-right corner of the screen)
From the panel that appears on the left, choose Download Reports
Check the boxes to include results by section
Click the Download button
Open the downloaded file and print it
Once you download the report, you could also email it to someone else. There is no limit to the number of times you can download the file.
Nothing! On Catalyst, the "Your groups" function allows you to create multiple custom DiSC maps, each of which can have up to 25 people from your organization. To learn more, see our article "Your groups" on Catalyst.